Wayside - Milton Keynes
7AM start and my personal valet got up and washed both cars ready for a meet, UK225 and
Photoniq joined us before we met up with NickyB on the M1 to cruise up to Wayside.


Arriving at Wayside we were met by our host Craig, and were frankly amazed at what he had organised,
the cars, the AmD team and Dave from the TT shop were set up a fantastic display of cars.

Wayside Audi
Craig


The man himself! Many thanks to him and all who helped, he does understand "enthusiasts" and will look after you.
He got grilled on policies and warranties, poor chap, everyone found something of interest and made some new friends.
The opportunity to speak to a dealer and tuner together is extremely rare and for those of you who missed it, it was a great day.
Tinted Glass 180TTR, 225TTR with the Audi Bodykit, a great blue colour that no one could name!

Gary Handa's absolutely mad Golf/TT having had a fresh body kit and fantastic Stainless steel plated alloys,
The first development of AmD's turbo upgrade, 350 bhp (est.)
She was looking fine! That's one sorted Golf!


Sad git I am, he spends thousands on stuff and I liked the 10 quid black side repeaters that looked like black bodywork until they were lit. ;o)
This is the more subtle ABT bodykitted TT, ABT Alloys, Front/Rear spoiler, Gear Stick Ring, ABT exhaust/valance.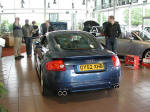 This rear spoiler I like, of all the rear aftermarket models, this one, I think, is a nice upgrade.

550bhp RS6.Its BIG!


Scott (AmD) getting to talk to him is harder than blood from a stone , but we had him to ourselves, we all had him, again and again! :o)
Poor guy was worn out by the afternoon! ;o)
The weather was mostly good except for the odd shower!
Wayside/AmD, TTshop had an impressive display of mods to look at plenty and a good turnout made the day
150TTR
Sportec wheels
Great Display
A8 alluminium bonnet struts...next TT mod?

A8 is BIG TOO!
Toys..
More Toys...


NO NOT THAT BUTTON...activated the A8 standard fit emergency blow up back seat Gangsta!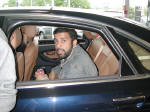 Designed to protect you when you need to get out of a hijack situation,
modelled from the average profile of the UK's most hardened criminals.
OH Dear, someone gave the keys to the missus!...She and NickyB drove off..20minutes later....blew the horn passing the dealers.....another 10 minutes later passes the dealer again.....another 10minutes later.....pass the dealer again...with the roof down this time.........30 minutes later......They arrive back ......with Tescos shopping! :o)


She didn't want to give it back! She said it was underpowered..speed freak!
Only one minor incident, we had a reconstruction to assist Crimewatch, all the actors in this scene bare no resemblance to the actual perpetrators of the crime and all faces have been masked to protect the innocent.
Door Ding
the alleged Perp. makes a hasty retreat

An actor simulates a good stern telling off and a failed attempt at waterworks by the actress doesn't phase the symbol of authority in the family....being portrayed in this reconstruction.


The feeble attempt at distress is seen through and no sympathy was given, you horrible man! ;o)
OH NO...WTF! you...what....why...howdy pardner...have a nice day!...but...but...why....did you lose a bet?
Was it at gunpoint?.....is she pregnant?.....are you 12?...do they sell spray paint to under 18's in your area?...
Would you like us to get them?.....We'll hunt them down for you! :o)
Even stick that boot rack on the right way round! ;o)


Who's, that leaving early....get back over here....the wheels looked fantastic!..
AND I missed a photo of the Wayside "Trick" Wheels, they had an Oak Green Coupe with fantastic cream leather and RS wheels that has had a hint of Green embedded within the Laquer...if anyone got some shots please email them to me!
Phill's LHD TT, nicely presented and some unusual mods.


The Pipercross induction kit has a proper mounting bracket to hold the filter steady and is also dry to the touch, much less oil and therefore less chance of any damage to a AMM.
The Jetex exhaust is the same outer size as a 100mm MillTek and IMO it looked just as good, sounded very nice too, fitted the day before so should carbon up and give an even deeper note. Very nice alternative if your looking for one!
Some of the other cars, some made little effort to clean their wheels, we let them off this once as it was their first meet! ;o)

After a mad rush to find a Pizza Hut we cruised around the Milton Keynes roundabouts and eventually came across the
The Caldecotte Arms.

We brought the A8 blow up Gansta with us! ;o)

Great food, great company and an excellent day had by all.
Thanks again to Craig (Wayside), Scott (Amd), Dave (TTShop), Gary Handa (MRK IV) and
everyone helping / attending to make it a successful day.