Wicked Wheels Repair
December 6th 2002
I had to happen sometime....a quiet moment to try and do the right thing to get my car out of the way and crunch..your heart drops as you hit a perfect alloy on a kerb.
After a little research, I took a chance that a company that ONLY does wheels will have a lot more experience in different types of repair. So WICKED WHEELS website lists agents for different areas, I picked
GARY DALTON 07867 544710
I had a previously refurbed wheel (refurbed elsewhere) and also a spare needing attention so Gary and his colleague came over to look at all 3 for me.
He's performed an excellent repair and finish, I expected the refurbs to all come out off colour like my original refurb and was half planning to have two matching colours on each side!
The paint colour matches my good wheels perfectly, I am very happy with this repair and cant recommend them highly enough for the job they have done.
The process is described below.
Back to the Future at 88.5mph this van rocks! Dont ask me there's a shite load of equipment in there!
Start by simply pushing the tyre away from the rim to make some work space.
The tyre is never removed or rotated so you should not need to balance the wheel afterwards.
The repair occurs only on the surface, the inside of the wheel is not painted in this refurbishment process.
Then he took out a sander...HE TOOK A SANDER TO MY WHEELS....oh lordy lordy...MY WHEHEHEHEEEEELS.!!!!
Preperation....sanding, lots of sanding and hand finishing.!!
My WWHWHE HE HE HEEEEELS!
Any blemishes are filled and sanded to bring the surface back in line with the surrounding areas.
After the sanding, the wheel is cleaned and then covered to mask the tyre.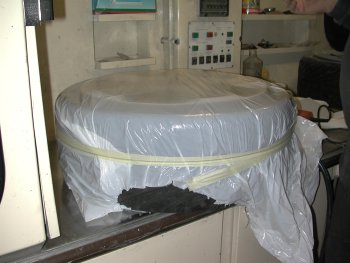 The wheel is prepared for painting the first coat of primer.
All the work is done in the van, you only need to supply parking, power , tea and money!
After preparing the wheels, they are primed and baked under an infrared lamp.
After baking the primer, they are sanded again and prepared for painting.
They are then painted, lacquered and baked under the lamp again for around 1/2 hour.
The finished product is excellent, these are the guys to call if you need a wheel sorted.
The paint match is perfect and I am very happy to have my kerbed wheel and badly refurbed wheel looking all new and shiny again!
As this is a quick method of painting and baking there is a limitation, only hand washing for a few weeks as the paint needs to cure over time and as its winter it will take longer to harden.
There is a some risk of the finish being easier to damage if you drive it fresh so its best to arrange this if you can park the car up and let the finish have a night to cure.
RS WHEELS AND COMPETITION (POLISHED ALLOYS)
We talked about these wheels, polished are not something they entertain, all they can do is paint them a colour if you wanted, but repairing them is not worth the effort as they can not provide a guarantee on the finish and the lacquer staying on.
RS Wheels from Audi are a high Fleck (term for the sparkle in the paint) and its partly achieved by the manufacturing process. Wicked Wheels now do a Paint finish they beleive to be a 95-99% match to RS paint finish
If you are buying a 2nd hand car with RS wheels on it, check the condition, if they are perfect then they are either new or maybe the paint shade wont match a new one as they have all been refurbed to keep them matching.