Eurodezigns 6000K Bulbs

In the quest to get front illumination that matches the colour temperature of the Xenons the current favourite was Philips Blue Vision Bulbs but I have found something better.
I bought these bulbs BOTH sets for around £24 from http://www.ebay.co.uk
The seller is XenonDepotuk click to see other products.
They are 6000k rated and live up to there spec and the price is fantastic, basically £6 per bulb and they have a LIFETIME warranty, I am buying a spare set so if I get a problem I can keep running while 1 is returned for replacement.
I am very pleased with the results and recommend this product and ebayer highly, they come from the US but arrived very quickly within a week.
I had originally only changed the main beam to Philips, the Philips H3 fog bulbs were not much different to the oems, these however are excellent replacements.
This Link will guide you to gaining access to the light covers and bulb holders
Because of the battery the fog light bulb is in a very tight and inaccessible position, it is a simple and quick job to remove the front cross member cover to make access easier.
Part push the lugs in the cross member to loosen them so they can be withdrawn , see the picture below, do not push the centre pin all the way through.
The lugs have 3 stages where the centre pin is engaged at stage 1 locking them,
push the centre pin gently a few mm to stage 2 which will allow the lug to be withdrawn.
Stage 3 is when you have pushed the pin too far, its dropped out, try to avoid that. :o)

Once out, pull the pin through and put it back into the top ready to refit.
Here you can see a Philips H7 bulb and an OEM H3 bulb next to the Eurodezigns equivalent.
WARNING: try not to handle the bulb lenses with your fingers

The H3 fog light cover twists through around 45 degrees and removes
A spring clip needs to be pushed and lifted slightly to release the bulb, a single spade connection should be detached and the bulb withdrawn. Fit the new one.
Once the main backing cover spring clip is pushed over and the cover withdrawn, a smaller spring clip inside must be pushed over to release the main beam H7 and parking light bulb holder.
Simply pull the H7 bulb and refit the replacement.

Towards the wing is the Xenon bulb holder.
The Results.....superb!
Colour Temps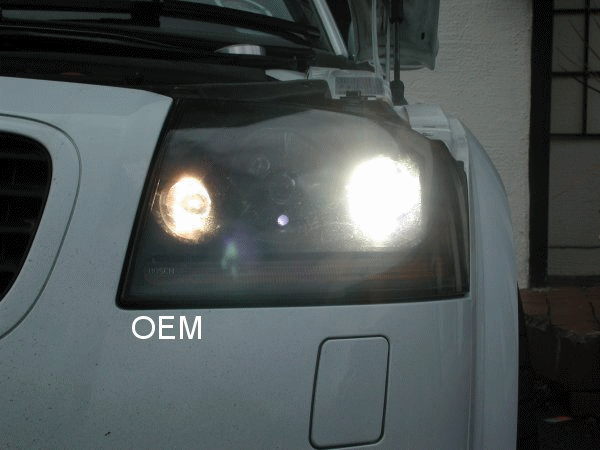 Here is the original OEM to Philips change followed by the Philips to EuroDezigns change.
Very happy with this product and the value for money is excellent!