Fitting the 2003/4 Spec Aerotwin Wipers

The new Bosch Aerotwin wipers are the latest design and have a full length spoiler design to ensure good contact at speed.
They also have a wiper arm design that acts as a wind deflector to assist the blade pressure and the overall thickness means they sit around 1/2 inch lower away from the glass, so from inside the car the are much less intrusive.
Warning: both arms and blades are drive dependant, make sure you order LHD or RHD arms AND blades.
WWW.VAGPARTS.COM
have them in and will do you a great price. Many thanks Paul.
Very easy to fit , a 15 min job.

Lift off the caps with a small flat screwdriver

Undo the 13mm bolt on each arm

If you want to be reasonable accurate, put some masking tape above the original positions to use for lining up later.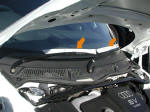 The toughest part is removing them, mine were tight, so we used the big grips to lift the base and push against a semi loosened bolt.

OR
The new arm wont have splines, they are cut in when tightened onto the wiper shaft.
Refitting is the reverse of removal, the drivers side has the shorter arm.
use the marking tape to line up the new wipers and tighten the bolts to 16nm torque.
Job Done!