Lake District Cruise 06/2003
Cruising up on the Thursday we had a typical mundane run up the motorways.
But traffic on the M25 was stronger than expected and crawling along so we took a sat nav diversion.

So Sat Nav took us down some country lanes where we got some 4wd experience unfortunately through horse manure.
But we did get a fun run and avoided the M25 to join the M1.

I'm bored

We cruised the M1 to specifically drive the A57 Snakes Pass from Sheffield to Manchester,
but first we stopped in Sheffield for a weewee break and a MaccyDee's! Lots of attention in the car park so we kept an eye on the cars.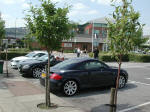 Arrived at the Beach Hill hotel and the layout was fine, parking OK,

Hotel was on Windermere Lakeside, steps down to its own mooring/jetty.

"I'm a sailor you know...When I was a lad..I..." NOOOOOOOOOOOOOOOOOO! Uncle Albert! ;o)

Day 2 was a bit cloudy/wet and baby was tired,

Smile please! ;o)

Cleaning crew, we are slowly getting together a good supply of useful kit to allow roadside car cleaning when away from home.
...."Is that a Morgan, when I was a lad" Noooooooooooooooooooooooooooo!"

Someone chose an unsavoury area to eat, but Pizza hut were very accommodating,
with personal food preparation, parking, seating and exit door proximity.
Mayur was pouncing any time we saw a kid breath our way, quite a lot of attention was given by the locals.




Victoria Beckham joined us.

We needed to stock up on Tesco munchies

Car Cleaning!

Lets Dance..

OI! Ands orfff my burd!..

Smile Please!..

Smile Please..
Without the fingers! ....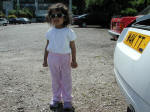 Nicky saved us from a shark attack! No boats big enough for our party.

So we decided to head into the hills and had to take the Ferry
Some very narrow single track roads, apparently described as off road, we got scared going up with no suitable stop points
eventually picking an open space to pull over and eat.
Some needed a toilet break and we picked up a Roadster on route who waved and lead the convoy for a few miles
Sunday morning clean!
The Meet! with some dolly burds!
The Cruise!
Cruise Stop! Leg Break! No risk of kerbing alloys! ;o)
Pics from Daniela.
Food Stop!
Fantastic weather!
The final few and goodbyes!
Fantastic weekend, many thanks to everyone organising, Block your route was superb!